From: Gabriel Birke <Gabriel.Birke@delti.com>
Date: Wed Jul 08 2009 - 05:46:54 PDT
Hello Karl,

thanks for your input. After doing tests with Adobe Reader 8 and 9,
antialiasing turned on and off, Apple Preview and FoxIt Reader I'm starting
to lose my faith in PDF as a device-indepent format.

Attached you find a screenshot I took with Adobe Reader 8, 110 dpi
resolution and antialiasing turned off. Maybe you can understand that I was
annoyed at first by the irregular 2-pixel and 3-pixel lines.

AFAIK antialiasing is turned on by default on newer installations of Adobe
Reader so it shouldn't present a problem. But maybe someone on this list
with a strong graphics design background can propose a solution on how to do
properly measured grids that can mitigate the rendering effect.

My research has brought up another rendering glitch: Adjacent table cells
with the same background color have a little white line between them when
displayed with the Preview program from Apple.
If you're sure that has nothing to do with the PDF output from XEP, I'll
report this as a bug to Apple, but maybe I can send you sample files (and
screenshots) so you can have a look at it.

Thank you,

Gabriel

> -----Original Message-----
> From: Karl Stubsjoen [mailto:stubsjoen@renderx.com]
> Sent: Monday, July 06, 2009 9:06 PM
> To: 'Gabriel Birke'
> Cc: xep-support@renderx.com
> Subject: RE: [xep-support] Table Border thickness in PDF
>
> Gabriel,
> I am looking at the PDF you provided. I am not seeing a
> problem with the
> rendered lines, nothing blatant anyhow. I see very subtle
> differences, and
> using two different PDF viewers I see very very slight variations, but
> zooming in and out these variations go away. I believe this
> is nothing more
> than a screen resolution / screen redraw issue, but
> ultimately a problem
> with the PDF reader itself.
> Perhaps you can provide screen shots of the variations you are seeing.
> Thanks,
> Karl..
>
>
>
> Karl Stubsjoen
> Senior Sales Engineer / Professional Services
> RenderX, Inc. (Phoenix, AZ)
>
> Got XML?
> Get RenderX!
> The Leader in XML to Print Technology
>
> +1 (925) 392-0011 Direct
> +1 (602) 451-6157 Cell +1 (650) 328-8008 Fax
> stubsjoen@renderx.com http://www.renderx.com
>
>
>
> -----Original Message-----
> From: owner-xep-support@renderx.com
> [mailto:owner-xep-support@renderx.com]
> On Behalf Of Gabriel Birke
> Sent: Monday, July 06, 2009 9:55 AM
> To: xep-support@renderx.com
> Subject: [xep-support] Table Border thickness in PDF
>
> Hello,
>
> attached you find a FO file and a PDF I generated with it. If
> the attachment
> doesn't come through: The FO file consists of a table with 8
> rows, each row
> with a different height. Each cell has a 1pt border at the top.
> Like this:
>
> <fo:table-row height="18pt">
> <fo:table-cell border-top="solid 1pt #3366FF">
> <fo:block>Test</fo:block>
> </fo:table-cell>
> </fo:table-row>
>
> The problem with the PDF is that the line thickness of the
> table borders
> changes to different sizes per row when viewed with Adobe
> Reader 8. It's
> mostly ok in fullscreen mode (131% in my case) but when
> displayed in 100%,
> the lines have a different thickness: Some are 2, some are 3
> pixels thick. I
> guess that has to do with the internal rasterization
> algorithm of Adobe
> Reader, but I would like to know if there is any way around
> this effect
> because the PDF files I want to produce are mainly to be
> shown on screens.
> FYI, When I turn vector antialiasing on, the lines look a bit
> better, but
> have a "smeared" look.
>
> If I create PDFs with tables with InDesign I get much better
> results - I
> guess the problem is not the sole fault of Adobe Reader so
> there should be a
> way to do it.
>
> Any suggestions?
>
> Gabriel
>
>
>
>
>
>
>

-------------------
(*) To unsubscribe, send a message with words 'unsubscribe xep-support'
in the body of the message to majordomo@renderx.com from the address
you are subscribed from.
(*) By using the Service, you expressly agree to these Terms of Service http://www.renderx.com/terms-of-service.html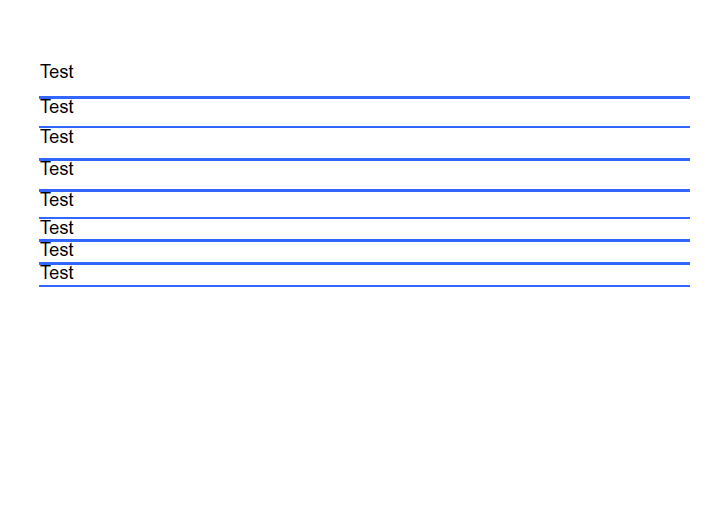 Received on Wed Jul 8 06:16:57 2009