[xep-support] Hyphenation issue in table
From: Darren Munt <darrenm_at_ADDRESS_REMOVED>
Date: Sun Apr 09 2017 - 18:35:22 PDT
I have some text that contains hyphenated words. With the hyphenate attribute set to 'false', words with hyphens will not break, resulting in the following:

[cid:image001.png@01D2B1EE.75821D80]

If I set it to true, then I get unnecessary hyphenation:

[cid:image002.png@01D2B1EE.75821D80]

Is there a mode where I can get it to break on a hyphen but not otherwise? I actually don't understand why it is breaking the word 'control' when there is space for it on the next line?

_______________________________________________
(*) To unsubscribe, please visit http://lists.renderx.com/mailman/options/xep-support
(*) By using the Service, you expressly agree to these Terms of Service http://w
ww.renderx.com/terms-of-service.html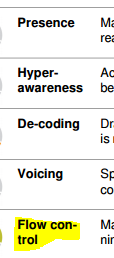 Received on Sun Apr 9 18:26:31 2017
This archive was generated by hypermail 2.1.8 : Sun Apr 09 2017 - 18:26:45 PDT