From: Kevin Brown <kevin@renderx.com>
Date: Mon Jan 13 2014 - 10:51:24 PST
1) There is no Search Index setting capability

2)
http://www.renderx.com/reference.html#OutputGeneratorsOptions_OutputGenerato
rsOptions is one such list with links to the sections in the documentation
for each of them

3) You can also set of course all of the built-in Metadata (author,
creator, title.) as well as any custom values you wish (any name, value
pair): http://www.renderx.com/reference.html#Document_Information

Kevin Brown

RenderX

From: xep-support-bounces@renderx.com
[mailto:xep-support-bounces@renderx.com] On Behalf Of Rhonda Fitzgerald
Sent: Monday, January 13, 2014 10:20 AM
To: xep-support@renderx.com
Subject: [xep-support] Search Index setting in Acrobat Advanced Document
Properties

Hi,

Is there a RenderXEP processing instruction that would allow me to set the
Search Index file, which can be manually defined in the Document Properties
Advanced tab in the Search Index field? And, where can I find a complete
list of RenderXEP processing instructions related to the Document Properties
setting for Acrobat PDFs? Thanks.

Rhonda Fitzgerald
DITA <http://en.wikipedia.org/wiki/Darwin_Information_Typing_Architecture>
Architect, Knowledge Services

<http://www.progress.com/> Progress

PROGRESS SOFTWARE
14 Oak Park | Bedford, MA 01730 | USA

PHONE +1-781-280-4656

MOBILE +1-617-549-7437

www.progress.com <http://www.progress.com/>

<http://twitter.com/progresssw> Twitter

<https://www.facebook.com/progresssw> Facebook

<http://www.linkedin.com/company/progress-software> LinkedIn

<https://plus.google.com/u/0/109745598602355509557/posts> Google+

!DSPAM:87,52d42e409855968016934!

_______________________________________________
(*) To unsubscribe, please visit http://lists.renderx.com/mailman/options/xep-support
(*) By using the Service, you expressly agree to these Terms of Service http://w
ww.renderx.com/terms-of-service.html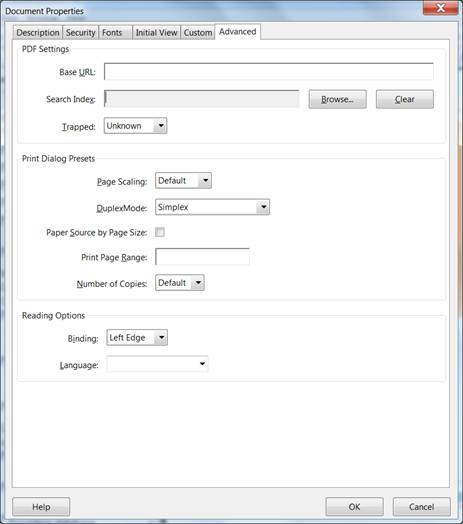 Received on Mon Jan 13 10:51:29 2014