[xep-support] Alignment/space issue with an SVG image in FO with XEP
From: William McVey (wam@cisco.com)
Date: Mon Oct 18 2004 - 08:48:02 PDT
Next message:
William McVey: "Re: [xep-support] Alignment/space issue with an SVG image in FO with XEP"
---
The attached FO document uses a combination of fo:blocks and an SVG
image to build a divider with a mitered corner. When rendered with XEP
3.7.8, I get an annoying one or two pixel gap between the top of the SVG
element and the enclosing block (I've included a small screenshot (under
magnification) so everyone can see what I'm talking about. I've set all
the spacing attributes (space-before, space-after, padding-before,
padding-after, etc) that I thought would have an impact, with no
success. I define the svg within a fo:instream-foreign-object within a
fo:block. The enclosing block's border (in red) seems to indicate that
the block is a being properly placed; however, the SVG object isn't
filling the block the way I thought it should (interestingly it fills
the horizontal dimension but not the vertical).

Any help would be very much appreciated.

-- William

-------------------
(*) To unsubscribe, send a message with words 'unsubscribe xep-support'
in the body of the message to majordomo@renderx.com from the address
you are subscribed from.
(*) By using the Service, you expressly agree to these Terms of Service http://www.renderx.com/tos.html

---
---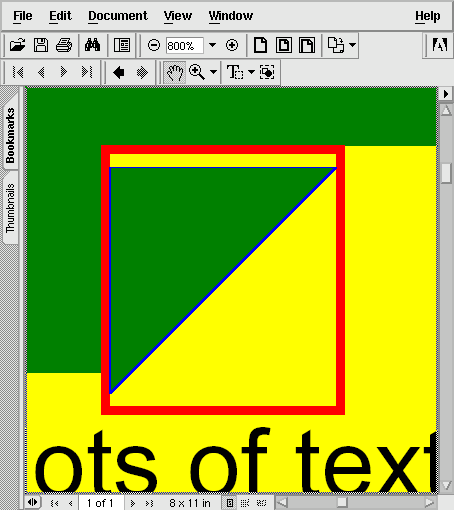 ---
---
This archive was generated by hypermail 2.1.5 : Mon Oct 18 2004 - 09:07:57 PDT